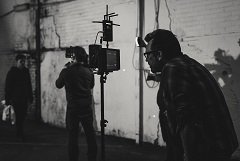 Sometimes we can talk about the life-transforming love of Jesus Christ without completely grasping what that means.
Then along comes a powerful story that really hits home. Artist and filmmaker Luke Bradford has created a film for Thy Kingdom Come that illustrates his testimony in an extraordinary way.
The essence of his story, however, is simple. It's about prayer, something that thankfully is accessible to each and every one of us.
Luke writes about the making of his film The Light and why Thy Kingdom Come is so close to his heart:
This project I've had in my head for about five years. It seemed to be the right time to bring it to life.
Essentially it's a piece of artwork that represents all sorts of our common struggles and vices, so things like gambling, drinking, smoking, fear of rejection, growing old – it's all captured within this one structure.
Whilst this work appears to be just a collection of random items, rubbish and trash, when a light shines through it, it creates an image of Christ on the wall and what this represents is, in our very busy messy, confused, damaged lives, Christ is with us always.
This piece of work holds personal significance to me. Throughout my 20s I found myself gripped by addiction to drink and drugs and I desperately wanted to stop and change my life, but nothing worked. It was the darkest period of my life. This work represents a lot of the struggles that I faced and that completely controlled my existence for a long period of time.
The Pledge to Pray campaign is so significant to me because when family members prayed for me in my darkest days of addiction that I would one day have an encounter with Christ and that the right people would be sent into my life to help me, well this became a reality. It's hard to put into words the significance that I believe those prayers had – my world had become a very tiny place and I'm living a life beyond my wildest dreams now.
Don't underestimate the power of prayer is my message. Prayer completely transformed my life, I truly believe that from the bottom of my heart. So the campaign to Pledge to Pray – I really encourage you to get involved with.
Pray for somebody in your life – a friend or family member who is yet to come to know the life-transforming love of Jesus. Pray that they'll have an encounter because it worked with me and completely transformed my life.