We are delighted to once again have the Cheeky Pandas on board for Thy Kingdom Come 2021!
Given the impact of Covid, we believe it's never been a more important time to focus on nurturing children in their faith and re-engaging families in the church. We have partnered with the Cheeky Pandas to bring you a variety of resources that seek to get children excited about the Bible and prayer, and ultimately, help each child build a beautiful life-long relationship with God… with some panda fun along the way! You can fill out the form further down this page to be kept informed of details and resources. 
Cheeky Pandas Series with Accompanying Activity Packs & Service Plans
Our flagship resource is an 11-part fun-filled and Bible based video series, with songs, animated stories, prayer and interviews with special guests. The episodes focus on the daily themes of Thy Kingdom Come, including 'Jesus', 'Sorry', 'Thanks' & 'Praise'. Our special guests include Bear Grylls, Nicky Gumbel, Ps Agu & Sola Irukwu, Gemma Hunt, ++ Justin Welby, Steve & Charlotte Gambill, Radzi Chinyanganya, Rob Parsons, Dr Eli Gardner and Pete & Sammy Greig. These episodes are designed for use in church services, school assemblies, children's ministries and at home within the family. You can see an overview of the series here.
To accompany each episode, we have a daily activity pack that includes crafts, games, a Bible reading and prayers. This is designed to help further engage children in the learning for each day.
We also have service plans with suggestions of what you might wish to include in an All Age/Family Service that features a Cheeky Pandas episode, either online or in person.
| | | | |
| --- | --- | --- | --- |
| | Download | Promo | Download | Download |
 

Download

Promo | Download

Download
| | | |
| --- | --- | --- |
| Promo | Download | | Promo | Download |
Release Dates 
Episode

Broadcast Date

4pm on Facebook

Available for Download

The Lost Guitar Pick
 
Available Now
The After Show Party
25th April
Available Now
The Missing Pizza
 
25th April
The Silent Disco
 
Available Now
The Birthday Gift
2nd May
3rd May
The Wrong Box
 
7th May
The Power Cut
 
7th May
The Broken Song Machine
 
7th May
The Duck Award
 
7th May
The Spider Madness!
9th May
7th May
The Lost Coin
 
7th May
Get the Cheeky Pandas Prayer Bears and other Cheeky Panda Resources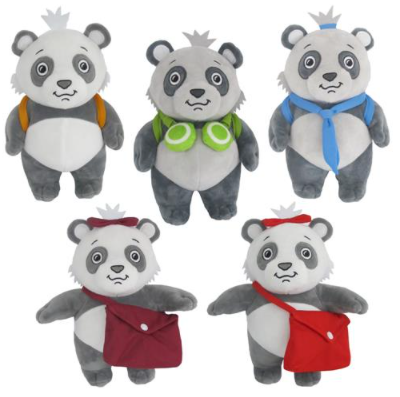 Cheeky Pandas Songs
Each of our episodes feature a brand-new Cheeky Pandas song, or a returning favorite such as Oh Wow! which you may remember from last year. Each of these songs will be available in an animated lyric video form, or you can dance along with Herbie via the action video! These can be used in your services and assemblies separately to the episodes. You can also find these on mainstream streaming platforms and chord sheets and backing tracks can be found over on the Cheeky Pandas website.
These resources will be available to download shortly. Please check back soon. Until then you can listen to the new Cheeky Pandas album, Pandamonium,  on Spotify here:
Cheeky Pandas Resources
Cheeky Pandas Prayer Book
An illustrated prayer book for children with daily Bible readings and prayers to use during Thy Kingdom Come.