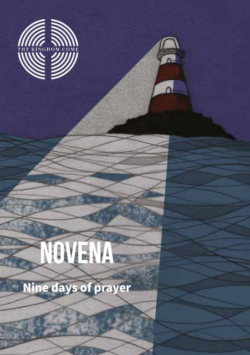 Ascension is the day when we remember Jesus' return to heaven after his resurrection, and Pentecost is when we celebrate the outpouring of the Holy Spirit on Jesus' disciples - often known as the 'birthday of the Church'. The nine days between these two key celebrations offer us an opportunity for prayer and reflection as we long for that gift of the Holy Spirit for ourselves and our communities.
In this in-between time, we invite you to pray with us, "Thy Kingdom Come" - that the Holy Spirit would come and bless and challenge us to witness to God's life-changing work.
When we came to prepare this year's Novena, we felt drawn to Jesus' Sermon on the Mount in Matthew's Gospel. As we explored deeper in and around the Sermon, we found so many passages that speak of God's love and care for even the smallest details of our lives - and of the ways in which Jesus challenges our attitudes, priorities and perceptions.
This little booklet is your invitation to explore for yourself, through art and prayer, this dual message of love and challenge. As you do so, know that you are part of the global Thy Kingdom Come family, seeking God's transformation for yourself and those you meet. Join with us as we pray together "Come Holy Spirit: Thy Kingdom Come" - and may our waiting and praying open our hearts afresh to God's possibilities.
The Novena Team Canterbury 2019