Registering your interest will help us plan the day & we will keep you updated with everything you need to know.
Pentecost Sunday 9th June 2019
Trafalgar Square, London 
From 12-6pm

Family fun 12-4pm: Children's activities including storytelling, street performers, crafts, face painting, dance, music & prayer workshops
Pentecost service 4-6pm: Praise, worship, witness, word & prayer
To pray 'Come, Holy Spirit' is to pray the prayer Jesus promised would be answered (Luke 11: 13). We can therefore come together with every expectation that this gathering will change us & in doing so, have an impact beyond anything we might ask or imagine. So, come & join us as we remember the past with gratitude, celebrate the present with joy & look towards the future with hope! Prayer Resources.
Frequently asked questions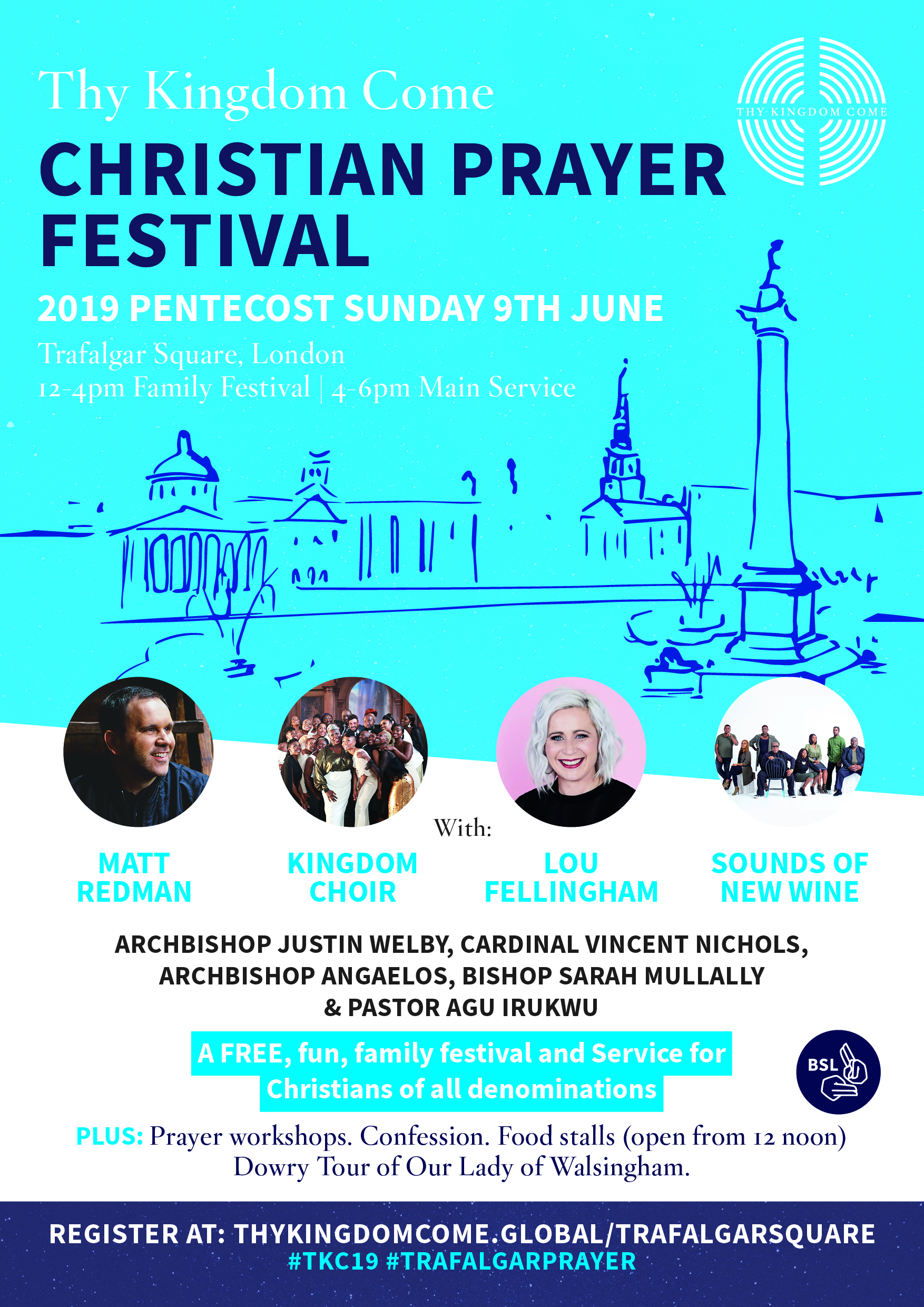 Who is taking part?
All Christian denominations and their church leaders will be taking part, including: Archbishop of Canterbury Justin Welby, Archbishop of Westminster Vincent Nichols, Archbishop Angaelos, Coptic Orthodox Archbishop of London, The Reverend Trey Hall, Methodist Church Director of Evangelism & Growth, Dame Sarah Mullally, Bishop of London, & Pastor Agu Irukwu, chair of the Redeemed Christian Church of God UK.
What can I do before I come?
As we wait upon the essential empowering of the Holy Spirit, we encourage you to pray for five friends, family members, or colleagues, for whom our greatest hope is that they come to know the transforming love of God in Jesus Christ. Also please print this poster and let your church, friends & family know all about it.
What can I bring with me?
Glass bottles, stickers & balloons are prohibited.
How did it all begin?
Among Jesus' last words to his followers was to 'wait for the gift my Father promised'. The time between Ascension & Pentecost has always been given by some to exactly this. In 2016 Thy Kingdom Come began with a simple invitation to prayer from the Archbishops of Canterbury & York to the clergy & worshipping communities of the Church of England & beyond, & it has grown into a global event for all Christian denominations.
What is Pentecost?
It was on the feast of Pentecost, 50 days after Jesus Christ's resurrection & 10 days following his Ascension, that the gift of the promised Holy Spirit filled the first disciples. The gathered group spilled out into the streets & public square of Jerusalem & Jesus' promise was proved true -the Holy Spirit empowered the followers of Jesus to be witnesses. As we gather in this public space we pray that the same Holy Spirit would be poured out on us all that we will witness effectively to the God whose loves changes the world.